Tundra whisky glass
EGGS Garage
Tundra whisky glass
EGGS Garage
Henning couldn't help but admire the soapstone that had so efficiently chilled his scotch; and with no ice. Undiluted - like the Scandinavian elements. Alone, up there in the cabin, he swirled the cool amber liquid around the glass, then took another sip. Savouring the moment. Tomorrow's trek down would be tough, although it was nothing he couldn't handle. "Damn, this whisky tastes good", he thought. (Photo above by Johan Holmquist)
A chunk of the Nordic wild
Tundra - meaning frozen ground - is a whisky glass designed exclusively by our product designers at EGGS. It's a chunk of the Nordic wild mixed with a delicate touch of modern sophistication; and is meant for those rare, self-indulgent moments to yourself. Although it's aimed at the whisky connoisseur, who's to say you can't drink a refreshing gin and tonic from it as well.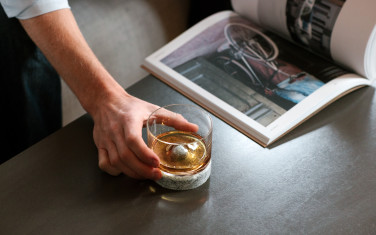 The rough with the smooth
It combines elegantly hand blown glass with rough textured soapstone to create a contrast between the solid and the transparent, the durable and the fragile. Man verses nature, as it were. The soapstone base retains the cold, and thus helps to chill the glass from underneath; allowing you to enjoy your favourite tipple without having to put ice in it.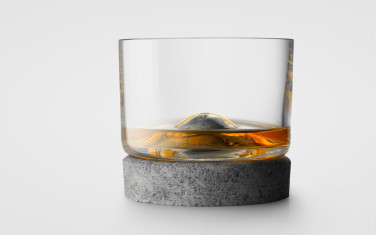 Beer is the answer
So, how did EGGS get involved in all this glass malarkey, we hear you cry? The thing is, we were asked to take part in the 100serie design exhibition. An invitational project that challenges five Norwegian design studios to come up with an exclusive marketable product of 100 limited copies. This could be fun, we thought. But despite exploring numerous ideas, we were stumped. A trip to the pub was called for. It was here that we finally hit upon the concept of glass on stone, and Tundra - after a few beers to get the creative juices flowing, of course. Like we said, this was a fun project after all. Next, we contacted various manufacturers, and lucky for us - they loved it. Before we knew it, we were in business.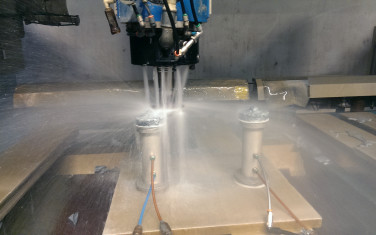 Get 'em while rocks last
Well, as it turned out we sold all 100 before the exhibition was over. We then set up an online store and commissioned a further 600. Which, thanks to a whole lot of free advertising through social media word of mouth, sold equally fast. At present, we only have 50 left. So folks, as they say, get 'em while stocks last. Or should that be, while rocks last? These little nuggets may soon be as rare as an old single malt.
Learn more about our approach
Have a chat with our
Creative Leader of Product Design Oslo — Henning Rekdal Nielsen
Related case-studies