No more autopilot
Oslo Airport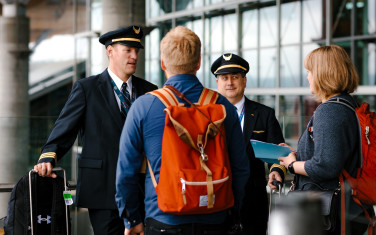 No more autopilot
Oslo Airport
The recent development of Oslo Airport is not only Norway's largest onshore construction project to date, it's also been EGGS' largest service design project. In cooperation with Norwegian civil airport operator Avinor, we've helped design a comprehensive change and capacity building program for 20,000 employees. Via various physical and digital learning environments, all staff at Oslo Airport, plus all air and ground crew members, have been trained to adopt a new unified customer-centric mindset. This will ensure the airport operates with maximum efficiency once its new terminal extension has been officially opened in April 2017.
Attracting travelers
Oslo Airport is now ready to cope with more passengers than ever, from 17 million people per year to 28 million. With an extended terminal building, the floor space will be expanded from 148,000 m2 to 265,000 m2. The airport will feature a new train station, check-in areas, technological solutions for baggage handling, security checkpoints, food and drink outlets, duty free and other shops, toilets and baby care rooms.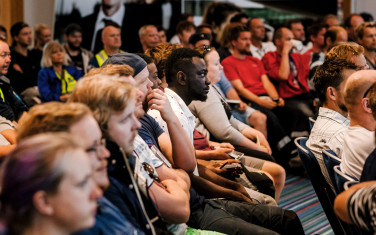 Huge challenge
To generate a cultural shift within any organisation takes a lot of strategic planning, but when the employee numbers are the size of a small Norwegian city, the task becomes a huge challenge. From checking in to baggage handling, security, flight turnarounds and so on. Every aspect of the airport is interconnected, therefore relates to one common service. Either closely or more peripherally. How do you get 20,000 people to share one common mindset?
New unified culture
EGGS' solution is to always focus on the people it affects. So, we began by collecting as much passenger insight as we could. Then in co-creation with employees, we produced a series of illustrative process models, photographs and graphic representations. This resulted in new employee knowledge and skills being taught to manage the new work situation and increased service ambition. Everyone was learning together to build a new unified culture.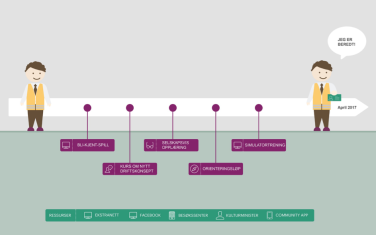 Comprehensive courses
Starting in spring 2016 we ran three courses with variations based on the five main operations performed at Oslo Airport. These are departure, arrival, transfer, baggage handling and turnaround (landing, disembarking, cleaning up, refueling, food, passengers, luggage, and take off). Whilst teaching, we simultaneously tested out new methods. Throughout a series of live courses, a closely orchestrated experience was designed. Kicking off with a welcoming handshake from the course holders, it included symbolic scenography, facilitated interaction with co-workers, presentations and participation, and personal commitment exercises.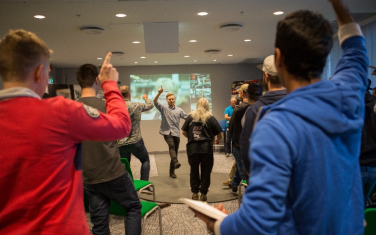 Motivation and pride
It takes a dedicated team to implement complex change. Especially when you have such a diverse group of employees like Avinor. By designing a learning journey for them, we conceptualized numerous touch-points to ensure repetition, variety and motivation. Throughout all our designs, we kept in mind the fact that some users had worked at the airport for up to 25 years, whilst others were starting their first day at work. Some were fluent in Norwegian and some weren't. We also considered age and levels of education, skills and learning preferences. Added to that, they all had a wide range of different jobs with different employers. Facilitating for this diversity took a lot of deliberation and included various professional participants applying their expertise.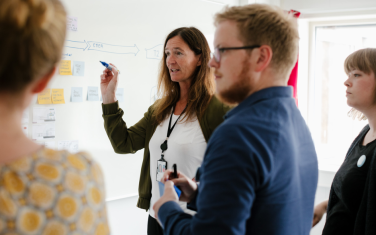 Supersonic achievement
The entire redevelopment of Oslo Airport has been thoroughly planned from day one. Avinor continued to operate at full capacity whilst all the construction work was taking place, and during the entire time the employees were being retrained. Step by step, new parts of the airport have been officially put into effect. Including the phasing in of the new processes and customer-centric mindset. Despite the rerouting of passenger traffic and relocation of retail outlets, EGGS has helped Avinor ensure that the transition has been as smooth as possible. Because of this, the entire project is already considered to be an enormous success, even before the official grand opening. A supersonic achievement for all involved!
Learn more about our approach
Have a chat with our
Head of Learning Journeys — Trond Dagsland
Related case-studies