From efficient to best
Oslo Airport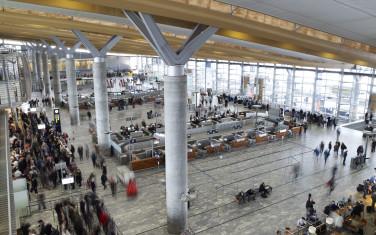 From efficient to best
Oslo Airport
In order to understand the traveller's situation better, embrace a stronger passenger centric mind-set and initiate interventions that improve the traveller's experience at the airport OSL chose to initiate a service design project with EGGS. The project is today implemented on a large scale, with implications on numerous on-stage and back-stage services in the airport, on employee training and mindset.
Passenger centric mindset
For several years running, Oslo Gardemoen Airport (OSL) has been awarded the most efficient and punctual airport in Europe. However, the airport wants to be more than just punctual and efficient. Their vision is to become the best airport in Europe. To achieve this 150 companies, with a total of 13,000 employees, must act together to understand and accommodate the needs of their travellers.
To make a good airport, the travellers need to be in the centre - service design has provided us with the mind-set and tools to make that happen."

Knut Holen, Director, Terminal Operations, Oslo Gardemoen Airport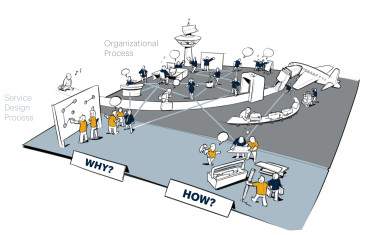 Gaining insight to improve the customer experience
In order to redesign the customer experience at OSL, we needed to understand how the airport runs from a service perspective as well as from an organisational standpoint. For the purpose of capturing rich insight and a detailed understanding of the users' behaviours and needs we employed a number of methods from service design:
Shadowing of travellers throughout the airport
Interviews with travellers and employees
Observing patterns and experiences at the airport
Self-documentation of travellers experiences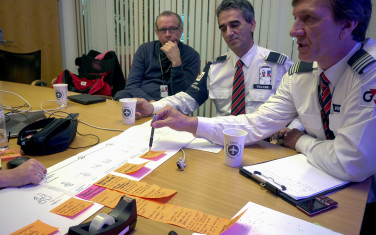 Using insight to map travellers through the airport
To interpret and translate the insight we mapped the research in a visual presentation structuring the traveller's journey through the airport step-by-step with video clips and visual presentations relating to the experience of each step. The insight gained was shared in many forums, from management meetings to social events. This helped shape a common picture of the challenges for all involved. It was key that the airport staff had a common understanding of the travellers and how their respective roles affect the traveller's experience when at the airport.
Improvement processes are not new to us. But, service design provided us with a method that ensures our efforts are relevant to the travellers, and gives us more effect on the resources used. "

Knut Holen, Director, Terminal Operations, Oslo Airport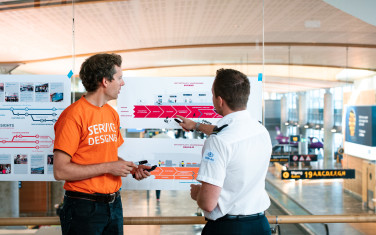 Improvement measures based on traveller's needs
From the insight gained several measures responding to traveller's needs were prioritised and are now implemented. These include:
Improvements on information and way-finding, such as new gate numbering, improved dynamic flight information, and numerous signage improvements
Improved traveler's facilities, like drinking water fountains, electrical outlets, etc.
Felix & Fiona – a comprehensive service offering for families with kids, including a separate family track through security check
"I am there for you" – service program and training for all OSL personnel
A common visual language for traveler's experience, enabling top-of-mind focus on travelers in internal processes in the airport
Positive effects from understanding your customers
The service design project has had positive effects in several ways; passenger satisfaction (improvement on customer satisfaction surveys), organizational mindset (new employee training modules, and a common visual language for traveler's experience), and on other airports (measures at OSL are now progressively being implemented at the other 46 state-owned airports in Norway).
The project was a joint collaboration between Steria and EGGS Design.
Learn more about our approach
Have a chat with our
Creative Director of Service & Business Design — Jan Walter Parr
Related case-studies