Butterly beautiful
TINE
So sexy it makes you want to have breakfast in bed. With its smooth and functional form, this is inclusive design at its most seductive, where a number of user needs and ideas come together to create intuitive universal packaging.
No more butterfingers
Awaited changes in production offered Tine the ideal opportunity to update the packaging for its various butters. The company wanted a more contemporary appearance, something that highlighted an appealing product on people's tables. This included not only packaging that was easily recyclable, but also something far less fiddly to open than what was previously available.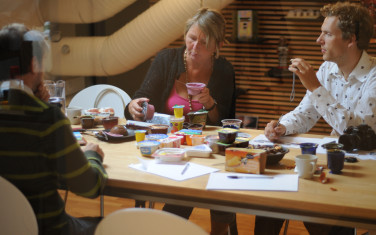 Packaging to make you melt
So, EGGS set out on an inclusive design quest to create a unique solution for Tine, one that incorporated several user benefits to outstrip any of the company's rivals. As a result, we set our minds on creating something aesthetically striking, but also highly functional. On a corner of the lid we devised an ergonomic overspill, a tab playfully designed to look like butter melting. This allows any user to easily flip the lid off with just a thumb or even an elbow. Also, the often tricky-to-open seal that is on most other types of butter packaging has a small hole in the corner flap for better grip, or for sticking something like a pen in to simplify opening it.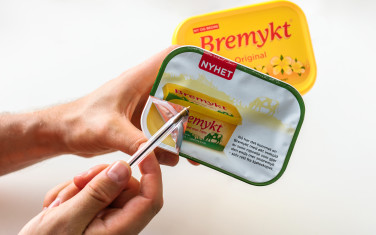 Effortless disposal
Tine's butter packaging was previously made up of cardboard, plastic and aluminum foil, and therefore awkward for people to separate into the correct bins for recycling. Now the packaging consists solely of plastic, making disposal effortless. Along with an enhanced brand image of being eco-friendly, and universally user-friendly, Tine now has a flexible solution they can apply to any new products or brands they wish to launch.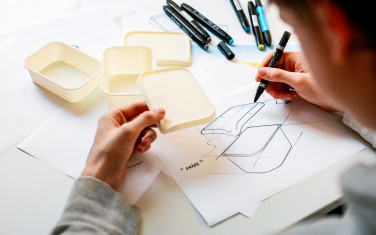 Seducing breakfasts everywhere
With competition in the dairy sector fiercer than ever, having a stand out product is vital for a company like Tine. Both butter and margarine provide a huge turnover in trade for supermarket chains and food stores, with over two billion varieties sold every year. Since Tine established this innovative product design, it has set a new standard within the packaging industry, one which others have tried to emulate, but not quite matched. 10 million breakfasts can't be wrong.
Learn more about our approach
Have a chat with our
Creative Director of Product Design — Carl André Nørstebø
Related case-studies