UX/UI Designer
Copenhagen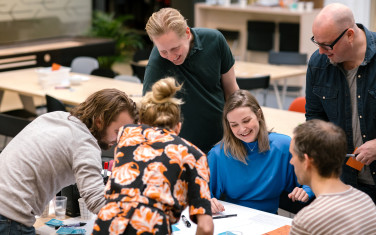 UX/UI Designer
Copenhagen
In our newly establish Copenhagen office we are looking for new colleagues to share exciting adventures with. If you enjoy teamwork and contributing to multidisciplinary design deliverables, then our creative nest might be your new professional home.
Working with EGGS
We would love to see you fulfil your potential in EGGS where you will contribute to further developing one of the best digital design teams in the Nordics. We are looking for someone who can fill the functions of a UX/UI designer. You know how to chisel out pixel-perfect interfaces, while at the same time keeping a firm hand on the overall concept. You are brilliant in your conceptual wireframes. And, you love the creative moments when you get to work the customer's needs into beautiful and exceptional user experiences. You have recently finished your master's degree in digital design, perhaps with a year or two of relevant experience. You are now looking for an environment to grow through working on holistic design and innovation projects.
Your skills include
User experience methods such as user insight, concept development, user flows and functionality diagrams

Stunning graphics user interface sketching skills, and "pixel perfect" application design

Good understanding of digital development, and mastery of agile methods for product development

Fluency in English and a Scandinavian language preferable
Your mindset is
Holistic with a flair for complex challenges

Progress oriented with a go go go spirit

Funergetic with a play to win attitude
We give you
The world's best creative nest

An opportunity to contribute to building a leading design-driven innovation agency in Denmark

Inspiring and meaningful projects

Money
Please send
Your CV

Your portfolio

Your letter of motivation
Application deadline
As soon as possible and by March 15, 2018.
Sounds interesting?
Have a chat with our
Chief Operating Officer — Øyvind Lium-Valmot
+47 99009949