Senior UX Designer
Copenhagen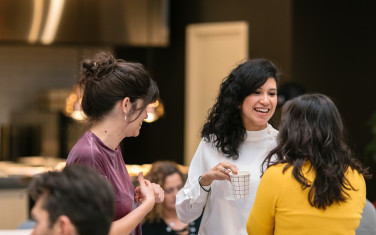 Senior UX Designer
Copenhagen
In our newly establish Copenhagen office we are looking for new colleagues to share exciting adventures with. If you enjoy teamwork and contributing to multidisciplinary design deliverables, then our creative nest might your new professional home.
Working with EGGS
We would love to see you fulfil your potential in EGGS where you will contribute to further developing one of the strongest digital design-teams in the Nordics. We are looking for someone who can fill the functions of a senior UX designer. You are a conceptually strong complexity-cruncher, a wizard in digital design, you master both overall user experience and have a good graphic eye. You know the basics of designing a website but are attracted to designing more complex digital products, applications and tools, as well as professional systems. You have at least 3-5 years of relevant design experience, which you will apply to digital design and innovation projects in many domains – both managing projects and creating design deliverables.
Your skills include
Classic UX design methods such as user-insight, concept development, user flows and functionality diagrams

Graphic user-interface sketching

Good understanding of digital development, and mastery of agile methods for product development

Business and innovation advisory connected to digital strategies – for products and for companies

Managing multidisciplinary design processes and workshops

Interest in handling client relationships and initiating new projects

Conveying design through presentations, keynote lectures or blog-posts

Fluency in English and a Scandinavian language preferable
Your mindset is
Holistic with a flair for complex challenges

Progress oriented with a go go go spirit

Funergetic with a play to win attitude
We give you
The world's best creative nest

An opportunity to contribute to building a leading design-driven innovation agency in Denmark

Inspiring and meaningful projects

Money
Please send
Your CV

Your portfolio

Your letter of motivation
Application deadline
As soon as possible, by March 15, 2018.
Sounds interesting?
Have a chat with our
Chief Operating Officer — Øyvind Lium-Valmot
+47 99009949