Senior Service Designer
Oslo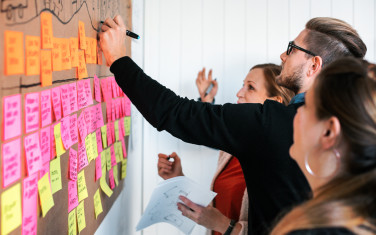 Senior Service Designer
Oslo
Do you value the quality of your craftsmanship through the meaning and value it creates for people, business and society? Maybe your heart beats for creating sustainable change in health care, ocean tech or other complex areas that will radically change in the foreseeable future? We at EGGS Design Oslo are looking for our new service design colleague to share exciting adventures with. If you enjoy teamwork and contributing to multidisciplinary design-deliverables, then our creative nest might your new professional home.
Working with EGGS
We would love to see you fulfill your potential in EGGS where you will contribute to further developing one of the best service design teams in Norway. We are looking for someone who can fill the functions of a senior service designer, a visual wizard in practice, conceptually strong complexity cruncher, with a deep curiosity for organizational change, people and co-creative process.
Your skills include
Service design methods such as user insight and service concept development
Detailing of service propositions including value proposition, business models, and user journeys
Visualisation skills such as drawing, infographics, and layout
Business and innovation advisory related to service development
Managing multidisciplinary design processes and workshops
Interest in handling client relationships and initiating new projects
Conveying design through presentations, keynote lectures or blog-post
Fluency in a Scandinavian language
Your mind-set is
Holistic with a flair for complex challenges
Assertive with a go go go spirit
Funergetic with a play to win attitude
We give you
The world's best creative nest
Inspiring and meaningful projects
A multidisciplinary design-hub where you can create deliverables from start to end
Money
Please send
Your CV
Your portfolio
Your letter of motivation
Application deadline
15th of January 2018
Please send your application using our recruitment system.
Sounds interesting?
Have a chat with our
Chief Creative Officer — Jan Walter Parr
+47 90854339