Product Designer
Trondheim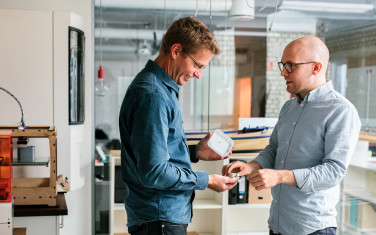 Product Designer
Trondheim
Industrial Design Sketching, SolidWorks, Keyshot? Concepts, aesthetics, prototyping, user-testing? Teardown, 3D-printing, manufacturing?  Sounds familiar? Like something you LOVE to do? Well, then we need to talk.
Working with EGGS
EGGS is growing and we have a new position for a product designer at our Trondheim office. We would love to see you fulfil your potential in EGGS where you will contribute in an ambitious and experienced design team at our offices in Trondheim. We are searching for an up-and-coming industrial designer who knows how to gather insight from users, business and technology, and transform it into visual concepts. You can be straight out of university or have a few years' experience.
Your skills include
Good sense for aesthetics; color, material, finish.

Great visual skills, either with sketching or rendering, preferably both.

Used to making and delivering great presentations.
Your mind-set is
User- and customer oriented, at the same time

Empathic with a drive to make people tick

Assertive with a go go go spirit

Funergetic with a play to win attitude
We give you
The world's best creative nest

Inspiring and meaningful projects

Responsibility and flexibility

Money
Please send
Your motivation

Your portfolio

Your CV
Sounds interesting?
Have a chat with our
Creative Director of Product Design — Carl André Nørstebø
+47 40401141