Country Manager Brazil
São Paulo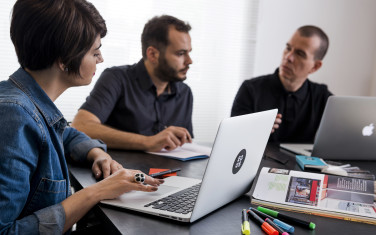 Country Manager Brazil
São Paulo
Are you ready to take lead in our growth in Brazil and drive both business, culture, sales and project deliveries? Are you also triggered by the opportunity to own and tell our story and vision effectively and act as our inspirational leader in Brazil? Then this is the perfect opportunity for you!
EGGS Design Brazil
EGGS Design is a Norwegian design and innovation consultancy which has gained enormous success in the Norwegian market over the last five years. We already have an office in Curitiba with 6 dedicated and passionate designers and are now looking to pivot and grow our business in Brazil with a new office in São Paulo. Our ambitious goal is to become the most impactful design consultancy in Brazil and we define professional leadership to be the first key strategy to achieve this goal. To lead this new adventure we are looking for a Country Manager for Brazil, located in São Paulo. Although located in São Paulo, as country manager you will participate in all aspects of building up and running both São Paulo and Curitiba – and perhaps later even an office in Rio if the market allows.
EGGS Design Brazil will benefit from many successful projects already being established in Norway, but has also started establishing local clients in Brazil such as Itau, Philips, Exxon Mobil and several start-ups. The growth estimate is to become 20 employees in EGGS Brazil by the end of 2018 – mainly based on serving local clients.
Skills, experience and motivation
We believe our future Country Manager of EGGS Brazil holds proven experience as a Country Manager or a Studio Leader, a Managing Director or other managerial positions, combined with a solid academic background within design and/or business administration. Fluent Portuguese and English – written and spoken - is compulsory for the role.
Also, you should be able to tick off most of the following:
An entrepreneurial spirit and mindset

"Natural Born Seller" talent

A large, relevant and convertible network – Strong personal brand

Demonstrated experience in developing strategy and business plans

Solid understanding of the local market

Solid organizational and leadership skills

Solid analytical and problem-solving abilities

A deep understanding and enthusiasm for design thinking

Excellent communication and presentation skills – a clear external voice

Ability to act as a cultural ambassador
In other words, you must have the skills, stamina, and attitude to build up a design office from scratch, and the know-how to benefit from being part of an international consultancy. We know it's a tall order, but we also believe in unicorns.
The job
As Country Manager Brazil you will report to the Group CEO and be responsible for the daily operations of our offices in São Paulo and Curitiba. You will take lead in our growth in Brazil and drive both recruiting, onboarding, sales and project deliveries. Further, you will articulate, own and share the story and vision effectively with both clients and key stakeholders and act as our inspirational leader in Brazil.
Other areas include but are not limited to:
P&L responsibility / preparation & implementation of a local business plan – facilitating its achievement by planning cost-effective operations and overseeing market development activities

Drive revenue growth from new and existing clients (leveraging on existing portfolio), understanding local client needs and being the main point of contact for new clients

Maintain / monitor revenue and project pipelines in collaboration with Group Finance and Operations team

Support the local team in the development of projects - developing and maintaining a fluency of EGGS' Design methodology and offerings

Ensure clients satisfaction by assigning projects and working with the right team, leveraging on local and Group expertise

Ensure compliance with company policies and legal guidelines

Act as the public speaker and public relations representative of EGGS in Brazil and be an influencer

Delegate responsibilities and supervise the work of the Brazil team, providing guidance and motivation to drive maximum performance

Quickly establish key stakeholders and relationships with clients

Proactively manage changes in project scope, identify potential issues, and consider contingency plans

Spot new business opportunities
We offer
EGGS Design offers a unique opportunity to join one of the world's most visionary and creative organizations. To this can be added an attractive and competitive compensation package consisting of fixed salary combined with pension and a bonus program - and not to forget - the opportunity to become a partner of one of the world's pre-eminent consultancies in the design industry.
About EGGS Design
EGGS Design is a strategic design and innovation consultancy. The vision is to offer "the world's best creative nest" and we currently house more than 80 designers and creative technologists across our four offices in Norway and Denmark – in addition to our 6 designers in Curitiba, Brazil. Growth is an important part of EGGS' strategy towards our vision to be world leaders in our field of design-driven innovation, which is why we are establishing another office in Brazil, this time in São Paulo.
EGGS Design helps our clients obtain success in industries like maritime, healthcare, IT, bank & finance, retail, oil & energy and public sector. The interdisciplinary approach gives a holistic perspective to the solutions we create – combining design thinking with design doing.
Ready to make a difference on the Brazilian design scene?
Please contact our recruitment partner Renato Killinger with Ackerman Executive to learn more about this unique opportunity or send your application to rkillinger@ackermannexecutive.com//Mobile + 55 11 9 4547-9912
Sounds interesting?